Character Creation
Gender:
Male
Name:
Daisuke Hagoromo
Age:
21
Birthdate:
October 15
Clan:
Hagoromo clan
Kekkei Genkai:
Seika, Seiranu Kengen
Family/Relationships
Tatsuo Hagoromo; father; alive:
The would-be Patriarch of the Hagoromo clan currently, however, he ended up walking away from his clan and the land they inhabited along with his wife.
Rin Hagoromo; mother; alive:
The would-be Matriarch of the Hagoromo clan currently, however, she ended up walking away from her clan and the land they inhabit along with her husband.
Chakra Nature:
Wind, Earth, Holy Fire
Rank:
House Head (S)
List of Jutsu
Spoiler:
Weapon(s)
n/a
Personality:
Daisuke has a very gentle and warm behavior that's reflected in his soft voice. Though he is the House Head, he doesn't quite have the mindset of an iron-handed leader, remaining moreosely a helper that aids every one of his clansmen whenever they're in need. When there's a dispute he listens closely and offers his own advice or shares his own input with the intention of settling the dispute. That said, he's a very fair-minded yet somewhat indecisive negotiator. Sometimes, having to deal with many issues at a time, he can get lazy and uninvolved for a period of time, however when action is required of him, he tends to his duties diligently. He aims to be a pious admiration for his subjects and upholds traditional values within the clan, abiding by "virtue above all", never does he push his fellow clansmen to do something they normally wouldn't do, this liberal thinking may or may not work against him at times, since a push or a nudge may be unknowingly expected of him. He isn't weak or timid, but he respects everyone's individuality and has no intention of "pushing" his authority on them or using it for his own selfish reasons.
When in battle, his knack for persuasion and natural charisma work toward reasoning with his opponent(s) in order to avoid a violent squabble or major conflict. He doesn't resort to violence unless it's completely necessary and/or required of him as the House Head. When things do get heated, his quick-thinking is what normally keeps him alive and on his feet.
Appearance: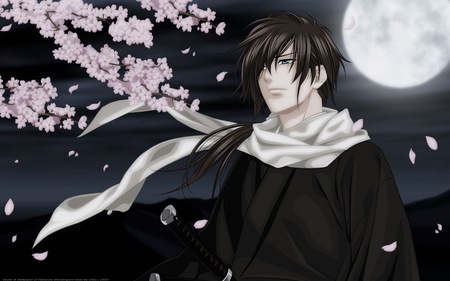 Unique Characteristics:
n/a
Biography:
Daisuke was born into the main family of the Hagoromo clan, in other words he's directly descended from the clan's founder, Koichi Hagoromo and is most strongly attuned to the source of their Kekkei Genkai. That said, he was destined to one day inherit the Blessed Land and reign over it as the House Head. He grew up as one of the privileged nobility of Hi no Kuni or the Land of Fire and his position in the clan gave him a front row seat of the wretches of warfare, which the Hagoromo clan was brought up into thinking was the right thing to do.
Daisuke always knew that there was something not quite right about the current conflict against the Senju clan and his suspicions were confirmed when his parents both decided to walk out on the clan overnight. They tired of war but the majority of the Hagoromo clan wanted to continue fanning the flames of it. His parents theorized that the land was no longer in a blessed state due to all the blood shed in it and went on another pilgrimage like the clan's great ancestor and Prophet, Koichi Hagoromo. Daisuke could have joined them, but he knew that there were too many of his fellow clansmen who would've remained behind and that they would need a leader to guide them. That wasn't the only reason, he remained faithful in restoring the peace of this Blessed Land, thus renewing it back to its original state.
Thus, the Hagoromo clan became divided as it had been centuries ago. A small group of clansmen ventured out on a pilgrimage to all of the wayshrines they constructed in search of answers while the majority remained behind in the Blessed Land, fighting in this ongoing war with the Senju alongside the Uchiha. Since then, Daisuke hasn't resolved to change anything and war continues on. There are some within the clan who aren't confident in his leadership due to his inexperience and relatively young age. Because of this, more and more clansmen leave the Hagoromo clan Compound to follow Tatsuo and Rin's group on a pilgrimage.